Hosted by The Food Group, the 17th annual Emerging Farmers Conference was held at the Shoreview Community Center, November 12-13, 2022. This was the first in-person conference held since the start of the COVID-19 Pandemic, as well as the first conference to take place on our new November timeline.
One year prior, in November, 2021, we hosted a special event, ReRooting the Emerging Farmers Conference, where we invited farmers to provide feedback about their experiences with the conference and the services and programs that it offered through our sponsors and partners. Sponsors, stakeholders, and community leaders were also invited to listen to farmers share their stories and constructive feedback. This feedback provided a platform for our 2022 conference planning team to continue to make our conference "for farmers, by farmers, with farmers.
Interpreters provided simultaneous interpretation in 8 languages: Hmong, Karen, Kirundi, Somali (Mai Mai Dialect), Burmese, Spanish, Swahili, and Arabic.
Many of the interpreters appreciated that they were welcomed and acknowledged before each session, and many also voiced that they are interested in becoming farmers.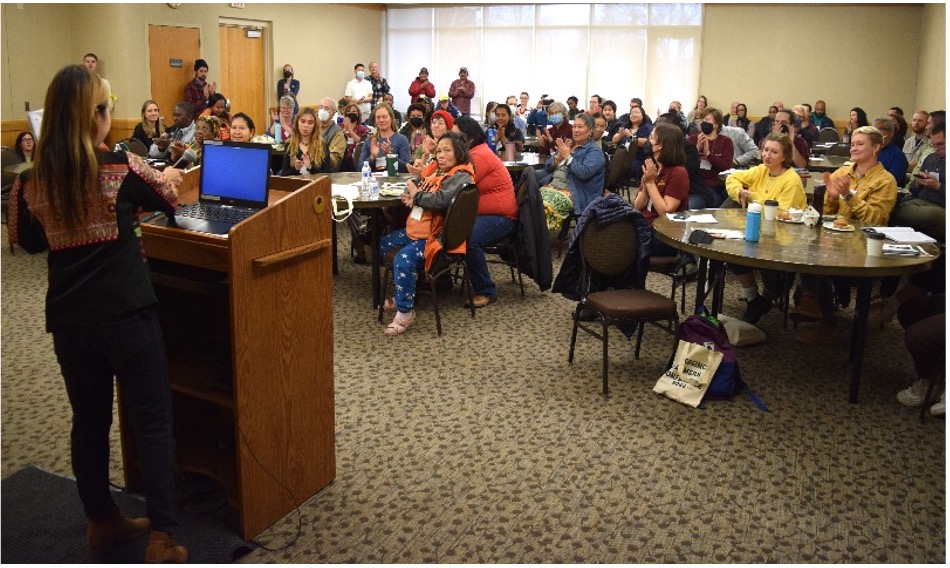 21 out of 26 Farmer presenters were BIPOC.
13 of 15 sessions included farmer speakers.
An interactive workshop on policy, advocacy, and organizing with farmers was hosted by Midwest Farmers of Color Coalition.
The Minnesota Department of Agriculture hosted a listening session at the conference, engaging farmers with available programs and services and the Emerging Farmers Office.
Lunch from both days was catered from local businesses that center local produce in their meals. Lunch on Saturday was catered by Chelle's Kitchen, and on Sunday by Common Roots Catering. Coffee was sourced from local cafes and restaurants.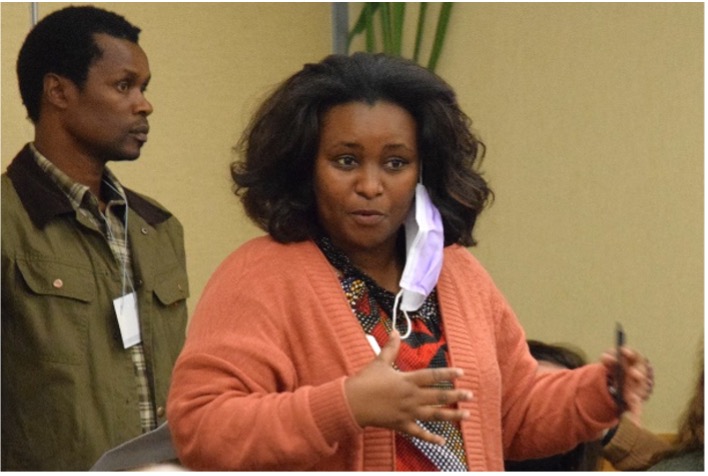 We had our very first wellness room with mental health resources, a massage therapist, meditation and anatomy coloring pages.
We also had our first farm business resource room where farmers could have more in-depth 1:1 conversations with governement agencies and lenders.
A first-time formal seed exchange workshop took place, providing an opportunity for farmers to learn about and share culturally relevant and Native seeds.
The conference was planned in part by our first Farmer Advisory Committee, through which farmers provided feedback and guidance on conference content and relevant resources.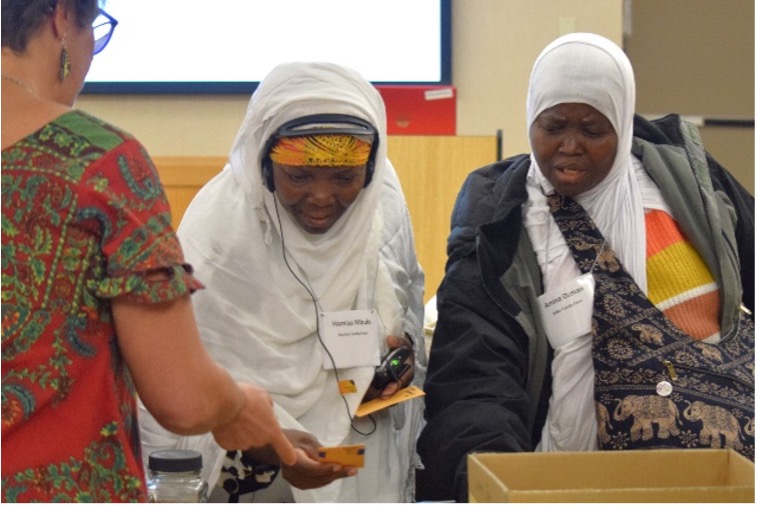 408 attendees registered for this event
including 289 farmers and 119 non-farmers. Total of 300 attended the conference, including175 farmers and producers.
Attendees joined us from 9 different states
Minnesota, Wisconsin, Illinois, Missouri, Kansas, North Dakota, Kentucky, Ohio, Iowa.
People from Minnesota came from 66 different cities and 28 counties.
The majority of farmers who attended the conference have farmed less than 2 years.
On average, 38% of farmers attending the conference have been farming less than one year,
34% of the farmers from 2 to 5 years, 6% farmed 6-9 years and 22% 10 or more years.
62% of farmers lease land to farm.
What People are Saying About the Conference
"It was delightful to be at a culturally diverse event that so well ensures that all attendees are included and felt welcome."
"Learning from other farmers and getting to connect with all the different people there have given me energy to tackle the challenges to come."
"I am so happy to learn about the farming resources. I've farmed in Inver Grove Heights for 5 years and have never heard about these resources. Now I can look at getting a tractor to help my farm operation. "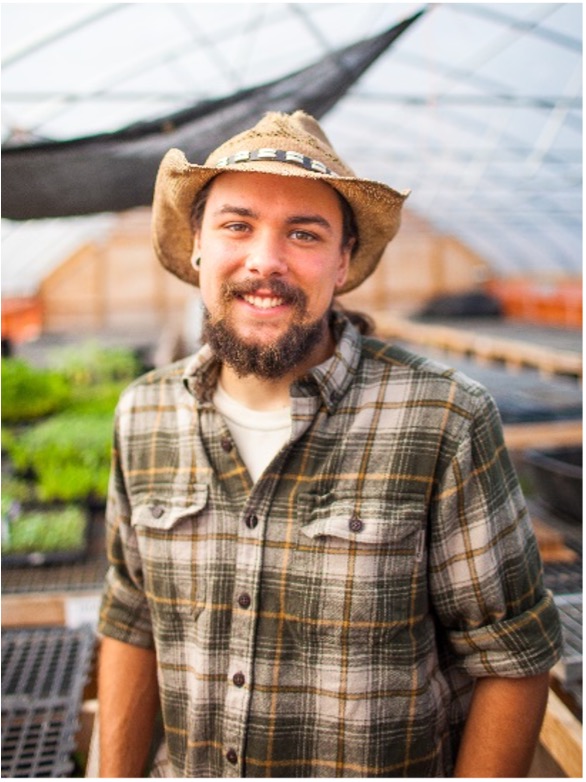 Lucas Humblet, a descendant of the Oneida Nation of Wisconsin shared his story of resiliency and how support from the agricultural community helped him build his own farming business. Lucas is also co-owner and operator of YAWELYAHSI·YÒ· Farm where he stewards the land that he cultivates with his partner Mallory. Together, they honor the land by saving the seeds and giving back to the soil. They have saved over 100 varieties of vegetables, herbs, and flower seeds, and co-hosted the EFC's first annual seed exchange.
Resources, Content & Farmer Support
In response to farmer feedback, workshops were intentionally formatted for farmer-to-farmer learning. Content was specifically catered to provide resources that would support growing their farm businesses. Workshops focused on selling to wholesalers, working with a food hub, land access, and connecting farmers to USDA programs and services. The conference also featured a farm business resource room where farmers could engage with staff from USDA, MDA, Renewing the Countryside and many other local organizations that support the success of direct market farmers.
Physical resilience, mental health support, and body-centered content were also an emphasis at this year's conference. Laura Gosewich, a clinical massage therapist and owner and operator of Vital Ground Farm, created a comprehensive Wellness Room where conference attendees learned about heat stroke and exhaustion, located mental health services, received body work through massage, and had a place of rest. We also had a nursing room and a prayer room to honor the diverse needs of our farmers.
The conference held its first field day on Sunday and provided transportation for attendees via coach bus. Participants rotated between Pillsbury United's Freight Farm located at North Market, a Microgreen demonstration at one of the University of Minnesota Saint Paul Campus sites, and season extension and a tour of the Good Acre warehouse and greenhouse. Farmers reported learning a lot and likely using the knowledge they learned from the microgreens workshop in particular.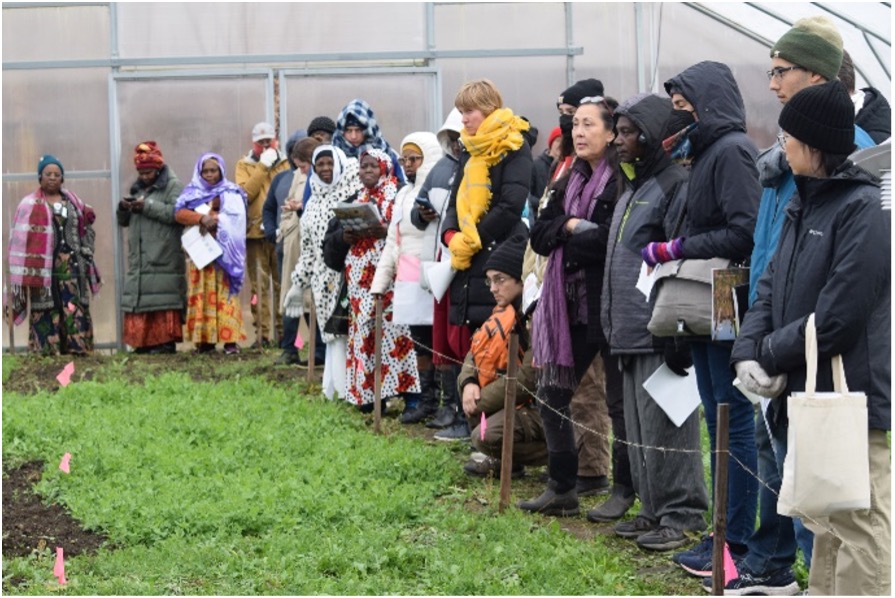 12 sessions were offered on Day One:
Diversifying with Flowers
Connecting to NRCS and FSA Programs and Resources
First Annual Seed Exchange
Growing Culturally Relevant Crops
Regenerative Grazing
Strategies for Physical Resilience on the Farm
Finding New Buyers for Your Products: How to Sell Wholesale
Let's Talk About Land Access
Listening Session with MDA Emerging Farmers Office
How can Working with A Food Hub Benefit Your Farm Business
Farmer Issue Mini-Caucus
Beyond Tomatoes: Innovative Ways to Use High Tunnels
3 Urban Farm Tour locations on Day Two:
Season Extension at The Good Acre
Leading with LUV: An Into to Microgreens at UMN Greenhouses
Hydroponic Farm at North Market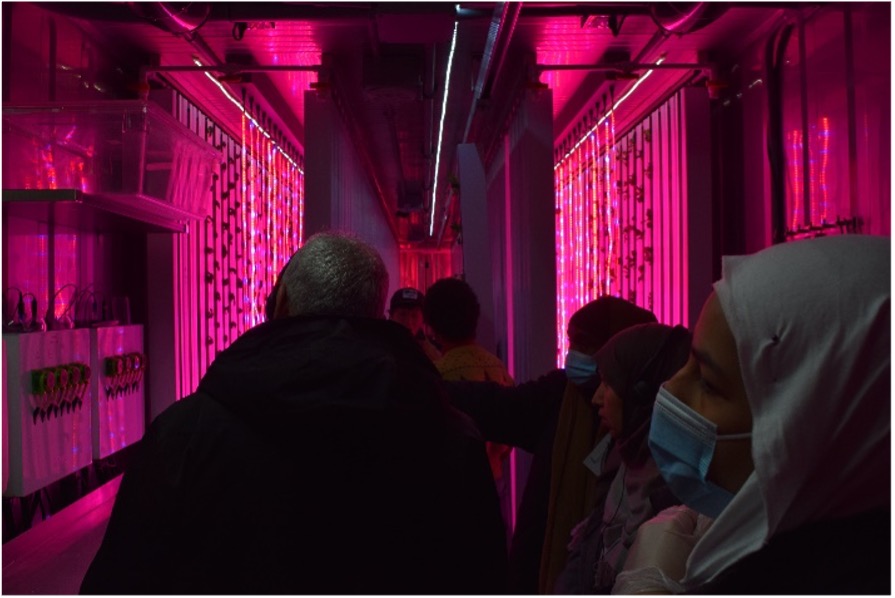 Thank you to our community partners and sponsors for making this conference happen!
Farmer Advisory Committee
Alberto Ortiz Former Big River Farms Farmer
Josie Trople Sharing Our Roots Farm
Lakisha Witter Live Organically Farm
Mallory Mitchell Yawelyahsi·Yò
Naima Dhore Naima's Farm
Tiffany LaShae
Kristin Thompson Tuttie Fruitties Farm
Lucas Humblet Yawelyahsi·Yò
Moses Momanyi Kilimo & Dawn2Dusk Farm
Nathanial Dioh Bethel Empowerment Farming Venture
Conference Planning Committee
Bekah Kropp Big River Farms 
Eli Goodwell Renewing the Countryside
Erika Resendiz Alonso Fond du Lac Tribal Community College
KaZoua Berry Big River Farms
Lucinda Winter Sustainable Farming Association
Nan Roberts Volunteer (since year 1!)
Nikki Crowe Fond du Lac Reservation
Zoe Hollomon Midwest Farmers of Color Collective
Dan Mahoney Farm Service Agency
Ellyn Oelfke Farm Service Agency
Eric Wilson Community Member
Hindolo Pakawa Sierra Leone Foundation for New Democracy
Karl Hakanson UMN Extension
Lillian Otieno MN Dept of Agriculture
Michael Chaney Project Sweetie Pie, Midwest Farmers of Color Collective
Natalie Hoidal UMN Extension
Pilar Ingram Land Stewardship Project
Big River Farms and The Food Group staff
Shoreview Community Center
Global Language Connect (interpretation service)
University Language (interpretation service)
Common Roots Café
Chelle's Kitchen
Conference Volunteers
The Good Acre (field day host site)
North Market (field day host site)
UMN Greenhouses (field day host site)